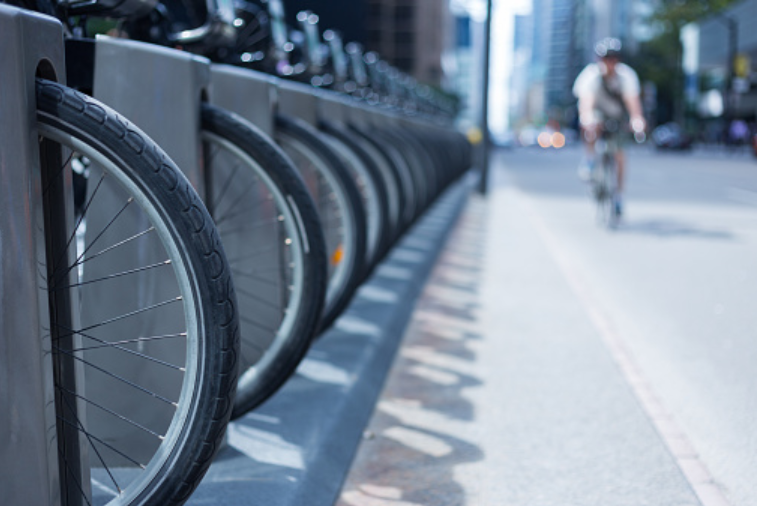 Toronto has a 10-year plan to improve street safety for bicycles and all road users
A recent serious bicycle accident along the Toronto waterfront is bringing attention to the risks cyclists and pedestrians face on city roads.
The bicycle accident happened early morning on a Saturday in May on Lake Shore Boulevard. The area features six lanes of traffic, an expressway, and a major arterial road. For reasons unknown, a driver lost control of their vehicle.
The vehicle "drove over the curb, crossed a grass divider, passed over the Martin Goodman Trail, and crashed into a metal guardrail on Oarsman Drive near the Argonaut Rowing Club," the Toronto Star reports. It is not clear where the cyclist was riding when they were hit. Specific injuries were also not given but were described as severe and "life-altering."
Bicycle and road safety advocates say tragedies like the one that occurred in May are too common in Toronto and throughout the GTA. The city is making headway on a 10-year plan to improve roadway safety, but some advocates have expressed frustration with the pace of action.
If you were hit by a car while riding your bike in Toronto, you can't afford to lose out on the compensation you're entitled to. The injuries sustained in bicycle crashes are often severe and debilitating, which means the stakes are high. A bicycle accident lawyer can ensure your legal rights are protected and advocate for the maximum compensation you deserve.
Toronto bicycle accidents
Since 2012, there have been an average of three cyclist deaths per year in Toronto. Cyclist deaths typically account for about 14 percent of all Toronto traffic deaths. Cyclists are killed in all types of crashes, including rear-end accidents, head-on collisions, intersection accidents, T-bones, and crashes that involve speeders, drunk drivers, distracted drivers, or motorists who are texting or falling asleep behind the wheel.
A bicycle crash can happen anywhere in Toronto, but some areas see more accidents than others. A "heat map" of serious bicycle accidents shows a concentration of injury-causing and fatal bicycle crashes in and around neighborhoods that include:
Downtown
Old Town
Garden District
Wychwood Park
Brockton Village
Stockyards District
Summerhill
Most crashes occurred at or near intersections. A city study determined actions that pose the most risk to cyclists include motorists making right or left turns, and motorists who cause rear-end collisions. In Toronto, specific intersections that have experienced fatal or serious bicycle accidents within the last several years include:
Bloor Street at Dufferin Street
Gerrard Street between Sherbourne Street and Bay Street
Royal York Road at Simpson Avenue and again at Judson Street
Huntingwood Drive intersections
Making Toronto roads safer for everyone
Toronto is in the middle of a 10-year plan to improve road safety for all users. The city has also committed to Vision Zero, a North American campaign to end fatal crashes.
Part of Toronto's traffic safety plan includes improvements specifically aimed at cyclist safety. These include the addition and maintenance of cycle tracks, bike lanes, "sharrows" (shared roads), and multi-use trails. Infrastructure upgrades like adding new paint, bollards, and signage to existing bicycle lanes and trails are a part of the plan as well.
Other road safety initiatives for Toronto include the creation of bike boxes, which raise bicycle visibility, and advanced green for cyclists, which would allow people on bikes to proceed into an intersection before motorized vehicles. This should reduce crashes that involve turns, experts say.
Bicycle Accident Lawyers Serving the Greater Toronto Area
If you're in the GTA and you were hit by a car while riding a bike, Smitiuch Injury Law can help you pursue the compensation you deserve for your medical bills, lost wages, pain, and other losses. We offer free one-on-one case consultations to accident victims and families considering wrongful death actions.
Our Toronto bicycle accident lawyers have years of experience successfully handling complex cases involving injured cyclists, and we would be honored to talk to you about your potential legal case.
The key is to act fast so that we can get started on your case as soon as possible and so that you don't miss important legal deadlines. Put your trust in a law firm that prides itself on helping those who need it the most. Contact us today to schedule your free case consultation.